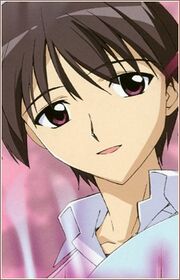 Ryo Ninomiya is Takeru's best friend and is something of a ladies' man, and is consistently called "Ro-baby" by Sakurako and Amika. He finds Akari sitting alone by a lake, and later gains some sort of power over the elements similar to how Takeru gained his powers shortly after meeting Hikari. He found Akari and takes her in as one of his family members. Ryo does have feelings for Akari, but Kimi keeps the two from having any sort of relationship.
Ad blocker interference detected!
Wikia is a free-to-use site that makes money from advertising. We have a modified experience for viewers using ad blockers

Wikia is not accessible if you've made further modifications. Remove the custom ad blocker rule(s) and the page will load as expected.