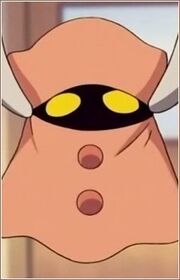 Kuon is the little creature that takes care of Akari. He looks like a specter with two luminous eyes but no defined body shape, except by his clothing. He is capable of levitation and apparently has some sharp tentacles, as he is seen carrying a watermelon with them which he later uses to remove the rind from the watermelon. Towards the end of the series, Kuon and Ioneos turn to mud and become a crystal. Kuon becomes a chip of the crystal which is probably why Kuon was small and Ioneos was big.
Ad blocker interference detected!
Wikia is a free-to-use site that makes money from advertising. We have a modified experience for viewers using ad blockers

Wikia is not accessible if you've made further modifications. Remove the custom ad blocker rule(s) and the page will load as expected.